A Roman road, an Iron Age hill fort, a hand-carved flint, and a cycle of violence that must be broken.
"A brilliant deep-time meditation on how landscapes hold – and

conceal – meanings."
Robert Macfarlane
"The best treatment of climate change in fiction I've come across. A powerful, essential novel."
George Monbiot
The Devil's Highway is the folk name for a Roman road in north Surrey where I grew up. The name is rooted in superstition: for in the Dark Ages, it must have seemed that only the devil could build anything so straight and strong. The Roman road marks the beginning of written history, of a civilisation that destroys in the name of progress. Physically and metaphorically, the Devil's Highway runs through the interlinked narratives that make up the novel. For one place over centuries becomes many places – the site of human struggles that resemble one another more than they differ.
Set in the unforgiving sandy 'wastes' of Bagshot Heath, the three sections of The Devil's Highway consist of three agons, or battles, against our self-destructive nature.
In 'Blueface', an ancient British boy discovers a terrorist plot in which his own family is implicated. In 'No Man's Land', two twenty-first century people – one traumatised by war, another by divorce – clash over the use and meaning of a landscape. Finally, in the futuristic 'The Heave' (where language is as degraded as the planet), a gang of feral children struggles to reach safety in a time of war.
Three narratives, one location, combine in a passionate and intimate novel that spans centuries and challenges our dearest assumptions about civilisation. Combining elements of historical and speculative fiction with the narrative drive of pure thriller, The Devil's Highway is an epic tale of love, loss, fanaticism, heroism and sacrifice.
"This is a work of staggering imagination, of unflinching acuity, powerful, poetic and profound. Telling the story of climate breakdown through language breakdown, it magnifies the meaning of loss, portraying a devastated culture without history or literature, whose language is down to its bleached bones and yet – how those bones sing." – Jay Griffiths
"Extraordinary and important: taut, clear-eyed, bleak, tender, and ultimately redemptive." – Charles Foster
"A big, ambitious, beautifully written book that examines, with immense sympathy and generosity, one of the greatest of all themes, place, and our complex, fraught relationship with it." – Neel Mukherjee

"A fierce, immersive vision of a novel. Wise, humane but never sentimental, The Devil's Highway is a story of love, rebellion, trauma and survival. It is the story of our relationship with the natural world – of how we got here, and where we might go next. No story could be more important." – Tom Bullough
"Through three intertwined stories set on the Surrey heaths The Devil's Highway deftly conjures the vertiginous shiver of time passing through place – and raises vital questions about our future." – Melissa Harrison
"A striking and dazzlingly poetic meditation on the resonance of place, conflict and kinship….Unfurling like a time-lapse flower across three thousand years, Norminton's skilfully-wrought novel is a memorable and thought-provoking read." – Liz Jensen
"The Devil's Highway is held together by place, by the persistence and frailty of the natural world, and by the havoc wreaked on it by its human inhabitants. Spanning three civilisations and their conflictual relationship with the world in which they live, the novel is also a deeply human examination of the cruelties people inflict on one another, through war and need, and of the eventual possibility of love, the only defence against the destructive force of fire."– Charles Lambert
"A very profound and moving exploration of the violence that we do to each other and our environment. The bleakness of Norminton's vision is redeemed by moments that reveal our enduring humanity and the common threads that connect past with present and distant future. It is truly epic in scope, while the tight, fast-paced action ensures it remains focused and compelling throughout. Virtuoso prose, a range of well realised characters and moments of astonishing imaginative vision and power. This is an important novel." – James Miller
"The Devil's Highway is a thrilling, heart-pounding gallop across the ages in one rather unloved corner of southern England, as we hurtle towards climate breakdown.   Time loops, leitmotifs echo and shapes shift in this bruising, poetic clarion call to action." – Mike Parker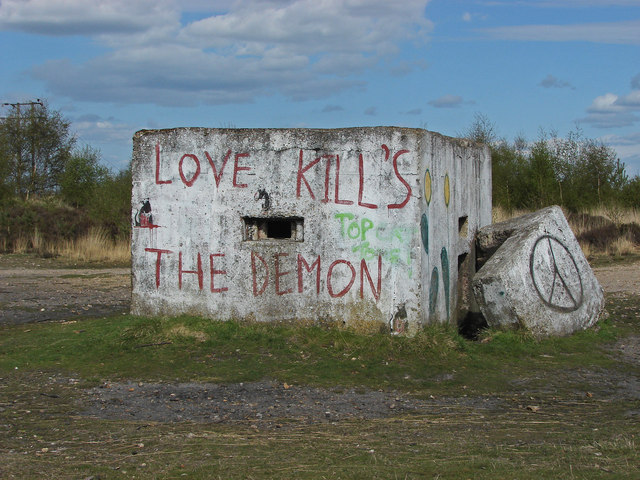 Abandoned wartime pillbox, Bagshot Heath (Copyright Alan Hunt)